vCenter 7 Server Profiles – Infrastructure Profiles
|
In vSphere 7.0, infrastructure profiles or also known as vCenter Profiles, allow you to eliminate configurations for vCenter Server and preserve configuration consistency across multiple vCenter Server instances.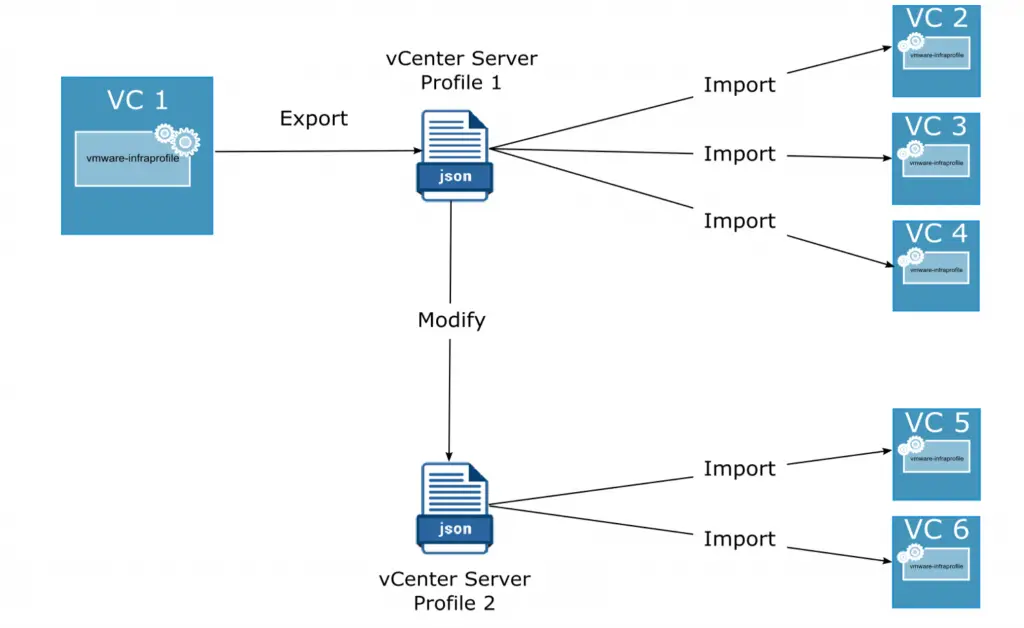 With vCenter Infrastructure Profile Management (IPM), you can export the existing configuration of the vCenter server and import the exported configuration information to another instance of a vCenter server.
vCenter Infrastructure profiles have many advantages: 
Streamlined configuration and change management of VCenter Server instances 
Fast identification of non-compliance with standard configurations 
Automated remediation 
Export and import configuration of vCenter Server in a user-readable format.
vCenter Infrastructure Profile Management (IPM) uses a modular web-based action platform. You can access IPM via an API package. IPM is an independent service within the VCenter Server Appliance and it runs under "vmware-infraprofile "
 See other new vCenter 7 services.  IPM offers the following interfaces to the API: 
List of items 
Exporting 
Validity
Import
Infrastructure Profiles is a JSON file, which includes configuration of the vCenter server.
Managing the vCenter Infrastructure Profile Service:
To see the status of the service, you can execute the following on the vCenter appliance via SSH:
service-control -status vmware-infraprofile
To start the Infrastructure Profile service:
service-control -start vmware-infraprofile
To stop the Infrastructure Profile service:
service-control -stop vmware-infraprofile
vCenter Infrastructure Profile Service Logs:
If you have an infrastructure profile issue, you can use the troubleshooting log: 
Log: infra-profile-svcs.log 
Location of log: /var/log/vmware/infraprofile/